2011 is quickly drawing to a close. And what an eventful year it has been. Grateful We're Not Dead was slow off the mark owing to some health issues for band members but we came back with a bang. Even though we didn't get started until April, Grateful We're Not Dead will have entertained at 18 events during 2011. Now that may not sound like many but when you consider the fact that we entertain for free and pay all our own expenses, the costs can mount up, especially when you factor in the cost of transportation.
To summarize our activities for the year:
Two fund raisers for Ottawa Valley Aid For Chernobyl Children, North Gower, Ontario
Mufindi Orphans Canada Annual Fund Raiser, Manotick, Ontario
The Denan Project Fund Raiser, Ottawa, Ontario
Department of Peace Fund Raiser, White Lake, Ontario
Rahane Cowboy Classic, Franktown, Ontario
Private Party, Seagrave, Ontario (4 hr drive from Ottawa)
Carleton Place Manor, Carleton Place, Ontario (4 shows)
Orchard View Living Centre, Manotick Station, Ontario (3 shows)
Lanark Lodge, Perth, Ontario (1 show)
Starwood Nursing Home, Ottawa, Ontario (1 show)
Annual Music Night Christmas Party, Ottawa, Ontario
Private Party, Ottawa, Ontario
The two major fund raising events were the Mufindi Orphans Canadaevent in Manotick (over $8,000 at the event) and the Denan Project Fund Raiser in Ottawa (over $6,000). When we see these returns as part of our efforts, it makes the band's time and participation worthwhile. We're not sure if Grateful We're Not Dead is paying forward or paying back, but we are enjoying a lot of personal satisfaction.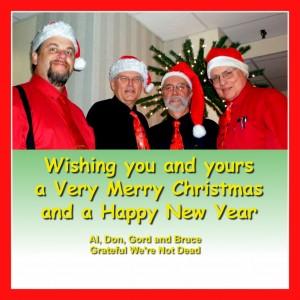 So as the sun sets on 2011, Grateful We're Not Dead would like to extend a big Thank You to everyone who has helped out during the year and to wish each and every one of you a VERY MERRY CHRISTMAS and HAPPY NEW YEAR. With a bit of luck you'll see us around in 2012.
Grateful We're Not Dead
Al Owler, Bruce Penniston, Don White, Gord Breedyk