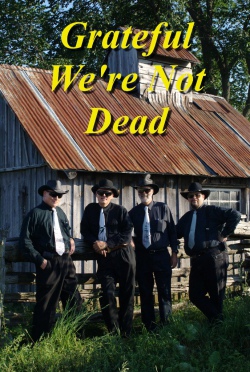 Grateful We're Not Dead has been maintaining a low profile so far this year. One of our own, Gord Breedyk, underwent some serious surgery and we've been waiting for him to recuperate. You can read about Gord's ordeal at Prostate Cancer Personal Journey. This is certainly a worthwhile read for any man and for women concerned about what their partner may have to go through.
Gord has recuperated to the point where he can play his light weight travel guitar and of course, it didn't effect his voice. The surgeon's knife didn't slip so we still don't have anyone in the band who sounds like Emmylou Harris. As you can see by the calendar over there on the right, we've got a number of bookings for July. Actually, more than enough for us old guys. The gig in Seagrave entails a four hour drive and an overnight stay. We've been asked to play for this party for three years now and decided we better do it while we still can. It should be a lot of fun.
So that's where we've been for the last few month's. Not gone, just in-waiting.
Hope to see you somehwere soon.
Don