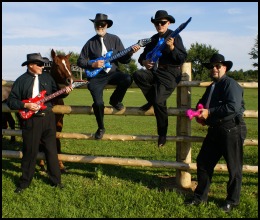 On Thursday, September 23, Grateful We're Not Dead performed in the auditorium of the Ottawa Main Library.  The occasion was a presentation of the National Film Board of Canada film The Peackeepers.  This event was part of the 4th Annual Ottawa Peace Festival.  Our participation was simply to provide some musical entertainment while the audience arrived and during the intermission after the film and before the question period.
Now it takes a bit of time to set up and tear down the equipment for any performance. It can seem a bit much when we're only going to do a few instrumentals and songs but it does give the band exposure.  So we usually agree to do these short gigs.
The nice thing about this event was the amount of feedback we received over the next few days. So just to toot our own horn, I decided to print some of it here.
"I was impressed with the musical act. Too bad the time was so short. I'd hoped to have the chance to tell these gentlemen how much I liked what they presented, especially that first song. – Mary-Sue H."
"I fully agree with you that Grateful We're not Dead were superb. – Bill B."
"I found your website and put the link on my FB page and a comment on your FB page. Your renditions reminded me of the mature Johnny Cash (maybe partly because of the black hats!) but there's extra power in those decades of life experience that add depth to how a song is interpreted. Great stuff guys."
"I second Bill in thanking …  Gord for a superb and professional performance.  … the National Secretary of RCMO Veterans Association took Gord's email and will be contacting him about an RCMP event. – Iman"
I guess we're doing something right.
Don