On July 12, Grateful We're Not Dead played for a dance in the Middleville Agricultural Hall in Middleville, Ontario. The dance was a fundraiser for the Middleville Trinity United Church. Two things made this event special for GWND.
The first was the other musicians appearing on stage with them.  From the late '50s until the mid '80s, Don played in a country dance band called the Mississippi River Boys.  MRB played for dances all round Eastern Ontario.  Needless to say, over that period of time, Don worked with quite a few different musicians.  On July 12, GWND had the unique pleasure of three of those musicians sitting in with the band. Walter Cameron (vocals, bass, rhythm) worked with Don during the '60s and '70s;  Jim Hildred (lead, rhythm, vocals) was with MRB in the early '70s, and Rick Legree (fiddle, piano) was there in the '70s and '80s).
The second thing that made the night special was the dedication of Bruce. Early on the morning of July 7, Bruce had a heart attack and ended up in Kemptville Hospital. On Wednesday he was transferred to the Heart Institute at the Civic Hospital in Ottawa. During the procedure to insert a stent, Bruce mentioned to the surgeon that he was in a band and had a gig on Saturday night. He asked if it would be OK to play. The surgeon said he couldn't see why not. So on Saturday night he was on-stage as usual. Now how many bands have members that dedicated to performing? So here's a big "Well played" to Bruce from the other members of Grateful We're Not Dead
On April 26, Grateful We're Not Dead entertained at the OVACC (Ottawa Valley Aid For Chernobyl Children) Annual Spaghetti Dinner fundraiser. This had to be at least the third year that we've been able to contribute our time and music to this worthwhile event. The dinner was held, as usual, in the Community Hall at Pierces Corners. To make the night even more special, after 11 years, Grateful We're Not Dead finally managed to get its name up in lights.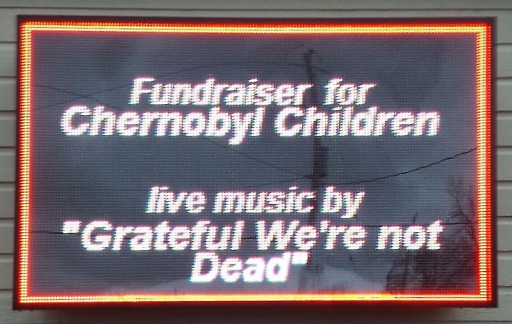 We also enjoyed the local talent and would like to thank Gracie for her fiddle playing, Valerie for her singing, and the little girl who step danced without the benefit of music. You all were great.
As most of you are aware Grateful We're Not Dead entertains for free for charities, fundraisers, peace events, etc. For private events we require that a significant donation be made to a charity. Sometimes, the organization or group prefers to give the money directly to the band and in those cases we simply bank the money until we have enough to make it worthwhile donating it. As a result of the funds contributed over the last year, Grateful We're Not Dead had the pleasure of handing OVACC a cheque for $1,000. It will be used to help bring 5 children from Chernobyl to Canada for the Summer.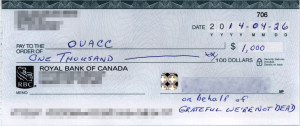 We'd like to give a big Thank You to those who provided the money to make up this donation.
This is the type of activity that keeps Grateful We're Not Dead feelin' good and hopefully, we'll keep doing it as long as we can still pick up our instruments.
Hope to see you at a gig in the future.
Grateful We're Not Dead
Don, Gord, Bruce and Al
Carty House, a communal residence in Ottawa that provides transitional housing for female refugee claimants and convention refugees, is holding a raffle on May 31st for some great prizes. Grateful We're Not Dead entertained at a Carty House fundraiser last year and the band supports the work of Carty House.
Don't miss out on your chance to win these amazing prizes!
Tickets available at: 613-236-8855 or cartyhouse@rogers.com
Price: $20.00 per ticket
Date of draw: Saturday, May 31st, 2014
Location: Carty House
Prizes:
First Prize: Voucher for 4 Via Rail tickets, to any two points between Ottawa and Quebec City return ($1,193.28 value)
Second Prize: International Dinner for six at Carty House ($200 value)
Third Prize: 2 Tickets donated by The Great Canadian Theatre Company plus $25.00 gift certificate donated by the Flying Banzini Restaurant ($95.00 value)
Fourth Prize: 6 x $5.00 gift certificates donated by The Table Restaurant
Fifth Prize: 4 x $5.00 gift certificates donated by The Table Restaurant
Ottawa License No. M669735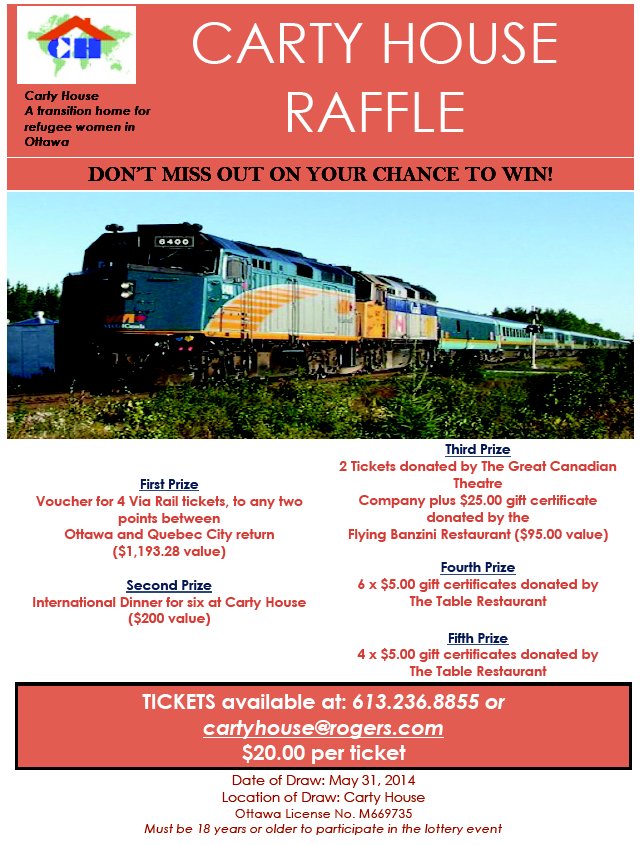 Holy crap, this recording stuff is time consuming mainly because of the problems with getting Grateful We're Not Dead into the studio to lay down the tracks. With a bit of luck we'll get the recordings finished, mixed and mastered before we croak.
Here's a preview of some things we're working on (Not the final mixes!):
Over Sixty Blues
Recorded at River Road Recording Studio, Ottawa, mixed by Don White (Grateful We're Not Dead) and mastered by Joe Gilder (Home Studio Corner)
I Don't Like Mermaids
This is a preliminary version of the song. Vocal and rhythm guitar recorded at River Road Recording Studio, Ottawa. Piano added courtesy of EZKeys. (Lead guitar, lap steel, and who knows what else to be added)
We accept no responsibility for damaged psyches or eardrums.
More songs will be made available as we progress. Patience is a virtue and you all know how virtuous Gord, Bruce, Al and Don are!!!
All the best from Grateful We're Not Dead
Gord, Bruce, Al and Don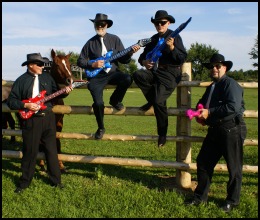 Wow!!! It's been over a year since I added anything new to the Grateful We're Not Dead official website. It's not that we haven't been out and about entertaining the masses. It's just that it's much easier to keep the fans informed of our comings and goings through the Grateful We're Not Dead Facebook Fan Page.
Even if you don't have a Facebook account, you'll still be able to read the posts on the page. However, if you do have a Facebook account, we'd really like you to click the Like button on the Fan Page.
As of this writing (August 26, 2013) we have 239 Likes from all over the globe. Now granted, that's not many when compared to a lot of other FB Fan Pages, but not too shabby for 3 old dogs and young Al, seeing as we tend to entertain in about an 150 Km radius of Ottawa.
We've also managed to get airplay on Rainbow FM 89.3 out of Warwick, Australia, thanks to Mal Kiely, one of the radio hosts. The show, Highway 15 Beyond, airs from midnight to 3 am on Monday mornings. Thanks to Mal, all the truck drivers and night workers around Queensland know Grateful We're Not Dead's Over Sixty Blues.
As most of you are aware, Grateful We're Not Dead entertains for free with all funds being raised going directly to various charities. Gord was doing some quick figuring recently and it appears we've raised well over $100,000 for charity in the last 10 years. The largest amount (about $45,000 as of 2012) going to the Mufindi Orphans Project.
And speaking of 10 years, July 1st this year was the 10 anniversary of the band's first official performance. On July 1, 2003 we entertained at the 40th Wedding Anniversary of Peter and Janet Van Zyl. Back then the band didn't even have a name. On July 29, just past, we entertained for their 50th Wedding Anniversary at the Westin Hotel in Ottawa.
Well, that's about it for now. Remember to check out our Grateful We're Not Dead Facebook Fan Page. I don't know if us old dogs can keep going for another 10 years but as long as Al can still load us and the equipment into the truck at the end of night I guess we'll keep slugging away.
Y'all take care now.
St. Paddy's Day saw Grateful We're Not Dead back entertaining the troops at Carleton Place Manor. Actually, it was 3/4 Grateful We're Not Dead because Gord is off to Tanzania for a much needed vacation. Needless to say, Al, Bruce and Don rose to the challenge and kept the joint rocking (or jigging) for a full hour of Irish songs.
Following the gig, Grateful We're Not Dead and friends adjourned to Ballygiblins Restaurant and Pub in Carleton Place for some liquid refreshments and food. The band has adopted Ballygiblins as their official watering hole anytime they are entertaining in the area.
Before we leave we'll give you a wee taste of the music from Saturday.
Hope you enjoy the videos and we're looking forward to seeing you in our travels.
Grateful We're Not Dead
Don, Gord, Bruce and Al
Last night, February 28, Grateful We're Not Dead got together for their weekly practice/jam session even though we're not sure it does any good – but at our ages we have to pick up the guitars frequently in order to remember which way to point the strings.
Don had purchased a Zoom H2n digital recorder earlier in the day and it was mounted on a tripod in the middle of the living room. After the recorder was turned on and the jam started, no one paid much attention to the device. After listening to the material we felt it was only appropriate to subject our tens and tens of fans to more aural abuse so we posted a few numbers on the Audio Files page. If you feel brave or are tone deaf then we suggest you hop over to the page and have a listen.
Hope your ears survive.
Grateful We're Not Dead
P.S. from Don: The Zoom H2n digital recorder is an amazing little device and well worth consideration if you do any impromptu or field recording.
On February 14, Valentine's Day, Grateful We're Not Dead had the great pleasure of entertaining at Carleton Place Manor, a seniors' residence in Carleton Place, Ontario. The occasion was a two hour Valentine's Dance for the residents. Now it's not very often that Grateful We're Not Dead gets to play for a dance. Usually, we are booked to do a one-hour shows in seniors' residences so it was an enjoyable experience for the band to see people up dancing to the music. As far as we can gather, the oldest lady dancing was 93 years old and the oldest one in attendance was 100 years old.
Mary Perkins, the Entertainment Co-ordinator at the Manor, greeted and welcomed everyone in attendance. Then the band, whose members had exchanged their normal black shirts and silver ties for red shirts and red ties covered with white hearts, swung into an evening of mixed material – slow tunes, waltzes, rock and roll, material from the 1930s and 40s – and mixed genres – country, rock, blues, MOR. The floor was immediately filled with dancers, walkers and canes were forgotten and the dance was on.
It being Valentines, the band felt that the ladies in attendance that evening were entitled to a special treat. As a result, they set up and artist's easel with a framed picture hidden by a pink towel covered with red and white hearts. At the one hour break the band announced that Grateful We're Not Dead had gone to great lengths to have an unique gift for the ladies of Carleton Place Manor and hoped that it would bring joy to their hearts. With that, the following photo was unveiled and passed around the room amidst uproarious laughter. (Sorry about the laughter Gord). With the interest being shown in it, we were almost afraid that we wouldn't get it back.
As a little aside, it was Gord's wife, Evelyn, who bought the tie and took the picture a year ago. Gord pointed out to the ladies that Evelyn wanted Gord to wear tie when she gave it to him so he had felt that the appropriate attire was tie only and he was sure this would lead to an entertaining evening. To his disappointment, the only response from Evelyn was to take the picture and the response from the ladies of the Manor was laughter instead of sympathy.
And we'll leave you now with one more picture showing the action as the band rocked.
See you again soon.
Grateful We're Not Dead
2011 is quickly drawing to a close. And what an eventful year it has been. Grateful We're Not Dead was slow off the mark owing to some health issues for band members but we came back with a bang. Even though we didn't get started until April, Grateful We're Not Dead will have entertained at 18 events during 2011. Now that may not sound like many but when you consider the fact that we entertain for free and pay all our own expenses, the costs can mount up, especially when you factor in the cost of transportation.
To summarize our activities for the year:
Two fund raisers for Ottawa Valley Aid For Chernobyl Children, North Gower, Ontario
Mufindi Orphans Canada Annual Fund Raiser, Manotick, Ontario
The Denan Project Fund Raiser, Ottawa, Ontario
Department of Peace Fund Raiser, White Lake, Ontario
Rahane Cowboy Classic, Franktown, Ontario
Private Party, Seagrave, Ontario (4 hr drive from Ottawa)
Carleton Place Manor, Carleton Place, Ontario (4 shows)
Orchard View Living Centre, Manotick Station, Ontario (3 shows)
Lanark Lodge, Perth, Ontario (1 show)
Starwood Nursing Home, Ottawa, Ontario (1 show)
Annual Music Night Christmas Party, Ottawa, Ontario
Private Party, Ottawa, Ontario
The two major fund raising events were the Mufindi Orphans Canada event in Manotick (over $8,000 at the event) and the Denan Project Fund Raiser in Ottawa (over $6,000). When we see these returns as part of our efforts, it makes the band's time and participation worthwhile. We're not sure if Grateful We're Not Dead is paying forward or paying back, but we are enjoying a lot of personal satisfaction.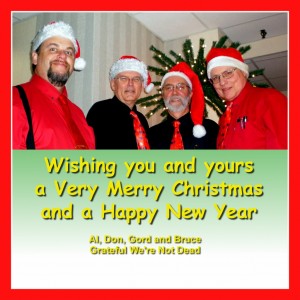 So as the sun sets on 2011, Grateful We're Not Dead would like to extend a big Thank You to everyone who has helped out during the year and to wish each and every one of you a VERY MERRY CHRISTMAS and HAPPY NEW YEAR. With a bit of luck you'll see us around in 2012.
Grateful We're Not Dead
Al Owler, Bruce Penniston, Don White, Gord Breedyk
The Boob Song
Any of you who follow Grateful We're Not Dead are well aware that one of the band's favourite songs is J.D. Wilson's Boob Song. Don found this song online many years ago and when Grateful We're Not Dead was formed the Boob Song was one of the first to go into the play book. When we're doing a show we normally end the night wearing our Boob Hats (created by Al) and singing John's song. If you're not familiar with our version just watch this video of Grateful We're Not Dead performing the song for the residents at the Orchard View Living Centre.
About J.D. Wilson
John D. Wilson is a skilled song writer with a great voice and a nice touch on a guitar. He has released a CD, Women and Booze, which is available on Amazon. The album is also available for download as mp3 files
from Amazon.
Recently, John sent us a link to a video of a musical tribute to his father. This is a beautiful song and well worth a listen.
This lovely song, Thank You Dad
, is also available as an mp3 download from Amazon.
Hopefully we'll get to see more of John on the Internet. He definitely is a pleasure to listen to.